Kettlebells are the ultimate piece of kit for anyone looking to take their fitness to the next level, so it's no surprise that they've fast become a staple of every commercial gym and PT studio – and, for that matter, many home gyms too!
Whether you're a beginner or a seasoned athlete, and whatever your training needs, Physical's market-leading range of kettlebells and kettlebell sets has you covered, from vinyl kettlebells to PU kettlebells, competition kettlebells to steel kettlebells.
With our range of kettlebell weights, you'll build strength, endurance, explosive power, cardiovascular fitness and metabolic conditioning; this really is an incredibly versatile tool that packs a punch way beyond its size!
Kettlebell training is generally quite dynamic, training multiple muscles at the same time – everything from your legs and arms to core and back – and moving your body in various planes of motion. Our advice is therefore that you start light, especially while you're getting used to the technique, and work your way up over time; the most important factor is to choose a kettlebell that's comfortable and safe to use, and that allows you to perform a variety of exercises with good form.
Our various kettlebell ranges all start at 4kg, so there's plenty of scope to ease yourself in to this excellent and highly versatile form of training.
Our competition and signature steel kettlebells are the ideal choice for serious athletes looking to take their training to the next level, while our vinyl and PU kettlebells are perfect for beginners, enthusiasts and regular gym-goers.
We also offer a range of kettlebell storage options, including kettlebell racks, to keep your kettlebells safe and organised.
Whether you're a commercial gym operator, personal trainer or home fitness enthusiast, our kettlebells and kettlebell sets are the perfect choice. Shop our range today!
Filter By:

Category

Product Type

Material

Price

Brand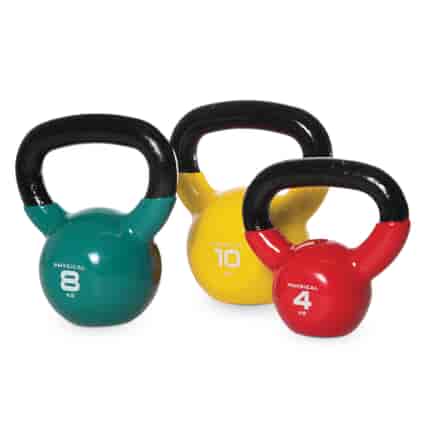 Designed with an ergonomic handle and a colour-coded vinyl dipped base, these kettlebells provide...
ZIVA Signature Competition Kettlebell Steve Cotter, world renowned kettlebell authority and ZIVA,...
View our range of Kettlebells
Sale

Was

£7.99

Now

£1.60

£1.33