Strength training to music: it's a match made in heaven. If you're a Body Pump enthusiast or a gym looking to offer Body Pump classes, look no further than our high-quality Studio Pump Sets.
Studio Pump Sets are highly versatile barbell sets designed with Pump-style classes and workouts in mind, enabling wonderfully varied strength workouts that challenge your body from top to toe. From squats to lunges, bicep curls to shoulder presses, these sets facilitate a broad range of movements, ensuring a full-body workout that targets every major muscle group.
It's quick and easy to add and remove weights, too, so you can customise your workout intensity as you progress.
Each of our Body Pump Sets includes a bar, collars and a selection of weight plates – 2 x 1.25kg, 2 x 2.5kg and 2 x 5kg – to enable you to adjust the resistance for each new exercise. Choose from durable, floor-protecting materials such as rubber and PU and discover the perfect set for your preferences and fitness goals.
Body Pump weights are an excellent, versatile, convenient tool for building strength, endurance and overall fitness, and are ideal for commercial gyms, home gyms and fitness studios.
Filter By:

Product Type

Material

Price

Brand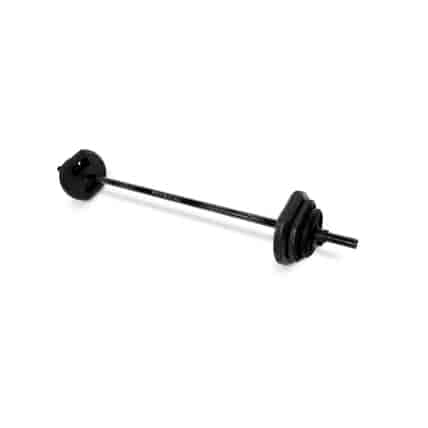 If you're looking for ultra durable Pump Sets, look no further that our Performance Urethane Pump...
ZIVA Performance Studio Barbell Set - Black Set comes with Bar, Collars, 2x 1.25kg, 2x 2.5kg and...