Resistance bands are one of the most versatile and cost-effective fitness tools available today. Whether you're looking to build strength, improve flexibility or enhance your overall fitness, resistance bands are an excellent choice – and at Physical, we have a range to suit all needs.
Our resistance bands come in various types and intensities, from gym resistance bands to loops, yoga bands to Pilates bands. Each offers unique benefits, so you'll want to choose the perfect band for the type of workout you're looking to do: strength training, functional training, stretching, yoga or Pilates. Some are more about resistance, for example, while others are perfectly designed to support a stretch.
Our resistance bands come in different levels of resistance to cater for users of all fitness levels, with each level color-coded for easy identification.
They can be used virtually anywhere and are easy to store and transport, making them the perfect fitness tool for home workouts, gym sessions, outdoor workouts and workouts on-the-go. Even better, they're perfect for working out specific muscle groups or targeting multiple muscle groups at once.
Whether you choose a beginner or an advanced level band, these are cost-effective, versatile, highly effective, easy-to-use fitness tools that can be used virtually anywhere for a great full-body workout.
Filter By:

Product Type

Material

Price

Brand
NEW GLUTE BANDS Glute Bands can be used for many different exercises from Pilates, yoga,...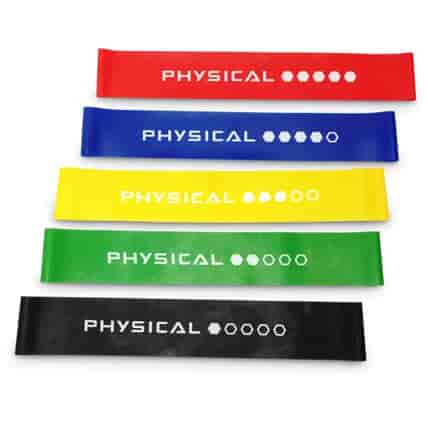 Build and strengthen muscles with these Power Loops resistance bands, perfect for Pilates and...
View our range of Gym Resistance Bands
Sale

Was

£12.96

Price From

£3.89

£3.24

Sale

Was

£19.14

Price From

£5.74

£4.78

Sale