Take your workouts up a gear with parallettes, the ultimate tool for bodyweight training. Bringing a dynamic gymnastics element to your workouts, these versatile devices introduce a greater range of motion to exercises like tricep dips and press-ups to push you further in your workouts.
Parallettes also encourage you to expand your exercise repertoire, supporting a wide range of movements that target different muscle groups. From handstands and L-sits to push-ups and core exercises, these versatile tools challenge your body in unique ways.
Suitable for fitness enthusiasts and aspiring gymnasts alike, fitness parallettes provide a platform for endless workout possibilities. By incorporating these compact tools into your training routine, you engage your core, upper body and stabiliser muscles, leading to increased strength, stability, flexibility and overall body control.
Parallettes also bridge the gap between fitness and gymnastics, allowing you to experience the precision and skill of gymnastic movements. As you progress, you'll notice improvements in balance, coordination and functional strength.
Whether you're at home, in the gym or outdoors, gymnastics parallettes are the perfect workout tool, their portable nature making them ideal for individuals on the go.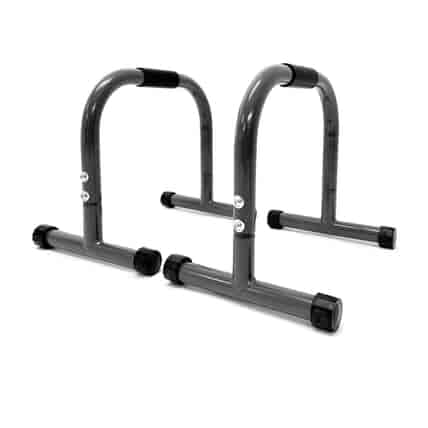 One of the most convenient and versatile products available for body weight training and an...
View our range of Parallettes