Whatever your dumbbell needs, you'll find what you're looking for right here, from PU, rubber, Hex and studio dumbbells to adjustable dumbbells where you add and remove plates to create the weight you want.
With Physical, you're also guaranteed quality: Physical and ZIVA dumbbells all come with commercial warranties, so you know you're buying products you can trust year after year.
Our dumbbells are perfect for anyone looking to add strength training to their fitness routine, from beginners to professional athletes. Whether you're looking to tone your arms, build your strength or add a challenge to a full-body workout, our dumbbells are versatile tools that can be used in a wide range of exercises, from bench and overhead presses to bicep curls, tricep extensions, lunges, squats and many more.
Round-headed dumbbells can be used for exercises like roll-outs, too, while Hex dumbbells are specifically designed to be non-roll. That makes them the perfect choice for compound exercises where you might, for example, want to do press-up burpees to overhead press using dumbbells.
The other great thing about dumbbell exercises is that – in contrast to barbells, where one arm can compensate for the other – dumbbells force each arm to work equally.
As a home exerciser, you might start by choosing pairs of the dumbbell weights that best suit your fitness level, but for commercial gyms and fitness studios, dumbbell sets are the way forward, ensuring you have the right weights for every member or customer.
Add one of our dumbbell storage solutions – upright or horizontal – and you'll also be able keep your workout space organised and clutter-free.
Filter By:

Category

Product Type

Material

Price

Brand
Avoid plateauing in your strength training by incorporating dumbbells in your workouts, which allow...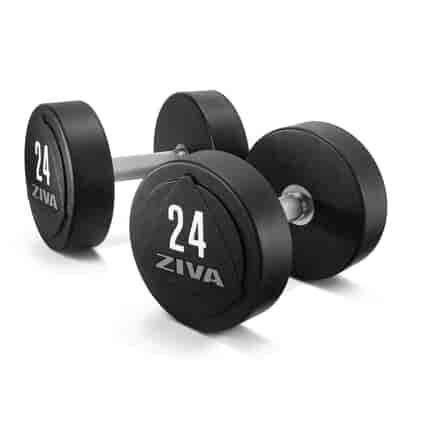 ZVO Solid Steel Urethane Dumbbells Solid steel heads Premium hard-wearing imported urethane...
Was
£912.00
Price From
£182.40
£152.00
View our range of Dumbbells
Sale

Was

£109.20

Now

£43.68

£36.40

Sale

Was

£23.86

Price From

£9.54

£7.95

Sale

Was

£128.02

Price From

£51.20

£42.67

Sale

Was

£289.54

Price From

£102.85

£85.71

Sale

Was

£912.00

Price From

£182.40

£152.00