Sometimes you'll be doing a workout – a cycling class, Step, Pilates, or simply a conditioning workout – where you want to add some light hand weights. Look no further: from smaller dumbbells and kettlebells for home workouts to simple hand held weights for studio classes, we have it all here.
Although we refer to this category as 'hand-held weights', it actually includes things like wrist weights and ankle weights too. Ultimately, we're talking about a wide range of highly versatile tools that can be used to add a touch of resistance – just enough to make a class, or a specific exercise within the class, that little bit more challenging.
You've no doubt tried indoor cycling classes where one track is centred on exercises for hand held weights: arm curls, overhead presses, rotator cuff exercises. Our studio dumbbells are perfect for this.
But hand held weights, wrist weights and ankle weights can also be incorporated into yoga and Pilates classes. Imagine doing Chalk Circles in Pilates – usually a gentle stretch, with the addition of wrist weights or a small dumbbell there's also an element of conditioning. And what about doing yoga's Warrior III pose wearing ankle weights?
Many of these hand held weights are even lightweight enough to be portable: our Neo-Hex Dumbbells start at 0.5kg and our ZVO Studio Tribells at 1kg. It means they can be taken outdoors as well as being used in the studio: the ultimate in versatility and convenience.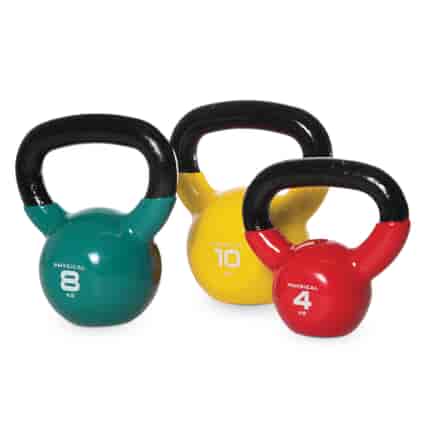 Designed with an ergonomic handle and a colour-coded vinyl dipped base, these kettlebells provide...
BRAND NEW PHYSICAL PERFORMANCE PU DUMBBELLS A durable dumbbell range designed with clean...
View our range of Hand Held Weights