If you're looking for a smart and efficient way to store your dumbbells, look no further than Physical's range of dumbbell storage solutions – high-quality dumbbell racks designed to keep your gym or fitness facility organised, tidy and safe.
We offer a wide range of dumbbell storage solutions to fit your needs and your available space: upright, horizontal, two-tier, three-tier, saddle racks, even a premium ZIVA range. Each type of rack offers unique benefits, whether you're looking for increased stability, enhanced accessibility or a space-saving design.
Our upright dumbbell racks are perfect for those who need to store large numbers of dumbbells in a small space. Horizontal dumbbell racks offer great stability and keep dumbbells close at hand while you're working out. Choose from two-tier or three-tier racks depending on how many dumbbells you need to store. And explore our ZIVA range of dumbbell weight storage for a sleek, modern look that will enhance the aesthetic of your gym.
Our dumbbell storage racks are made from high-quality materials that are designed to last. They're also easy to assemble and use, meaning more time working out, less time fussing with equipment.
Shop now for the best dumbbell weight storage solutions on the market and keep your gym tidy and organised!
ZIVA ST2 5 Piece Barbell Rack Features: Stores 5 barbells Vertical style...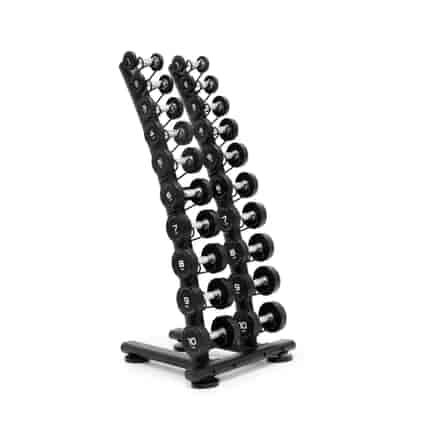 Designed with space saving in mind, this easy access forward facing rack offers efficient storage...
View our range of Dumbbell & Barbell Storage Racks
Sale

Was

£539.94

Now

£323.96

£269.97